Best Free Camping Spots Along the Great Ocean Road
While there's no doubt that the Great Ocean Road and Apollo Bay are some of the most beautiful coastal places to visit in Australia, you might worry that you don't have enough cash to travel down this road. Thanks to free camping, you can see the best of these destinations and save your money for food and supplies along the road. With plenty of free camping options along the Great Ocean Road, you'll have no problem deciding where to stay.
Where Should You Stay on the Great Ocean Road?
Camping means different things to different people. Some campers are only comfortable in a caravan that puts a roof over their heads and lets them tow a camper behind a vehicle. Others like camping in the great outdoors and sleeping on the beach or in the woods. No matter what type of free camping you're on the hunt for, you'll find some great options along the Great Ocean Road.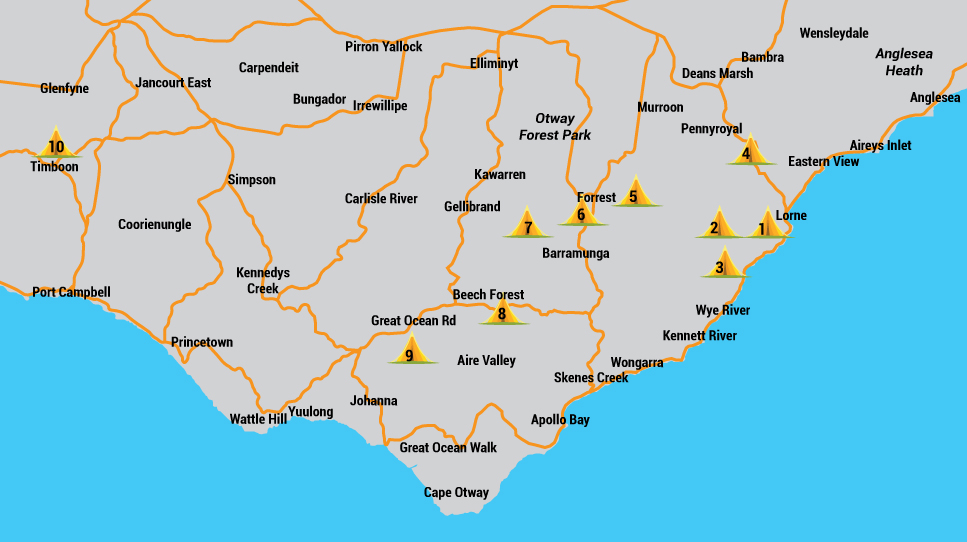 1. Allenvale Mill Bush Campground
For free camping spots that are great for kids, you can't go wrong with this campground. You can hike to Lorne Waterfalls and spend the day splashing in the water and still get back to your site in time for dinner around the fire. Though not far away from the Great Ocean Road, it feels like a different world because of the large trees near the sites, which block out the sounds of the nearby traffic. You can also get to the St. Georges River Walking Track in about an hour. This trail takes you on a long hike and is best for those who are physically fit. Some of the other nearby trails are suitable for hikers with less experience.
2. Sharps Camping Area
Though it's a bit of a drive from the Great Ocean Road, the camping at this free campground lets you beat the sounds and crowds of the city. It has just six sites but allows six guests on each site. If you want to host a stag party or a hen weekend with some close friends, this is one of the best campgrounds you can choose. You won't find power or water here, which makes it a good choice for those who want to enjoy the simple things in life. The campground offers sites for both caravans and tents.
3. Jamieson Creek Campground
A little further off the beaten path, Jamieson Creek Campground is where you go if you want to experience nature and get away from the crowds. It offers campsites for those in both caravans and camper trailers and allows you to sleep out under the stars too. All you need is a sleeping bag and a pillow to get comfortable. Once you finish setting up your camping site, you'll want to explore this campground that is close to the Great Ocean Road. It has spots for those who love hiking and nature watching.

4. Big Hill Track Camping
Another free place that lets you stay close to the Great Ocean Road is this campground. Located near where Big Hill Track meets the Lorne-Dean Marsh Road, it's easy to find as you come from any direction. King parrots live here and welcome guests when they arrive to put them in the mood to explore the outdoors. While it has only 12 sites, camping is free. Guests can stay in an area reserved for those in tents or stay in the section for caravans.
5. Goat Track
One of the best places to find free camping close to the Great Ocean Road is Goat Track. This campground recommends that you access it with a four-wheel-drive vehicle. Unless you have a strong vehicle, you won't have enough power to reach it. The campground gets quite slippery during the rainy season but offers loads of peace and quiet. Free sites are available for tent campers and are big enough for your group and dogs.
6. Stevensons Falls
As part of the Colac Water Pipeline Track, Stevensons Falls is a great place to look for free camping. Not only does it have fresh and clean water, but it has trails that you can explore and spots where you can camp with your dog. The surrounding state forest has loads of places to explore. You can even sit around the fire at night with your friends. As this campground is close to the waterfall, you may want to check it out before you leave!
7. Dando's Campground
Campers can stay in trailers and caravans at this campground, which is close to the Great Ocean Road and in a state forest. You can both have fires at this campground and bring your pets for free. It also has clean toilets for those who want the convenience of home and spots where you can spend hours fishing as you try to reel in a big catch. With all the areas that you can explore in the state forest, you'll never run out of things to do.
8. Beauchamp Falls Reserve
Getting back to basics is easy at this reserve that is free to use! Camping here lets you stay in a caravan or a tent and bring your pets from home. It has designated areas for grilling delicious food and walking trails that let you enjoy the great outdoors. As the campground can fill up quickly on busy weekends, you should arrive as soon as possible to secure a spot.
9. Aire Crossing Campsite
Great Otway National Park does not charge an entrance fee and lets guests set up free sites for camping in the Aire Crossing Campsite. It is close to the Great Ocean Road and the attractions in Apollo Bay but has a relaxing and peaceful atmosphere. Bush camping is available for those who want to sleep close to the river, but you should make sure that your food and supplies are secure when you head to bed as there are hundreds of wild animals nearby.
10. Timboon Recreation Reserve
While this reserve doesn't offer completely free camping, it lets you spend what you can afford. When you arrive, you can make a donation based on your budget and stay as long as you would like. It is around 30 minutes from the 12 Apostles and has more amenities than most free campgrounds along the Great Ocean Road provide. Not only does it have a dump station for caravans and a playground for kids, but it also boasts hot showers, cold drinking water and mobile phone reception if you need to check-in back at home. You can even bring a motorbike as it has free access to bike trails.
How Can You Pick the Best Great Ocean Road Campground?
With so many great options available, finding a place to camp close to the Great Ocean Road is easier than you might think. The hardest part is simply deciding which of the free options is best for you. One thing to consider is how much you want to spend on the whole trip. The campgrounds that are closer to the towns, like Apollo Bay, let you stock up on supplies before you arrive and explore some of the fun things to do in town. If you can afford to spend even a small amount on your trip, consider visiting the Great Ocean Road Brewhouse and Tastes of the Region in Apollo Bay for a full local tasting experience. Tastes of the Region is also a fully stocked bottle shop to stock up on the best local craft beers before you head to your chosen campground. The even offer a special 10% discount for RV'ers, campers and backpackers. Simply show you camper club membership card or Work & Holiday Visa proof to redeem the discount.
What Do You Need to Camp?
You don't need to spend a lot of money on free camping because you can bring needed supplies from home. Make sure that you have enough food and clean water for your trip as some campgrounds do not have running water. It's also helpful to bring some creature comforts from home, including bedding and comfortable clothes.
Can You Camp Along the Great Ocean Road?
You can camp along the Great Ocean Road when you choose one of the campgrounds listed here. All offer free camping and some nice amenities that you can use on your trip, including access to water and clean restrooms. As the Great Ocean Road is close by, you can easily pick up marshmallows for roasting over the fire and bug spray to get rid of the annoying insects flying around. These campgrounds put you close to some fun activities that everyone in your family will enjoy too.
Is the Great Ocean Road Suitable for Caravans?
Though you might think that the campgrounds along the Great Ocean Road are only suitable for those bringing tents and sleeping bags from home, there are campgrounds suitable for those bringing a caravan too, especially around the "bigger" towns like Apollo Bay. Whether you have a motorised RV or a caravan that you tow with your truck, you can pull in and set up in minutes. You should check with the campground about any rules that it has though. Some prohibit the use of generators at night, and others have quiet time rules that guests must follow. If you disrupt other guests, the campground can ask you to leave.
Alternative & Affordable Accommodation
Sometimes you need a break from camping in the bush (don't feel bad, we all need a proper bed sometimes!) Visit the Great Ocean Road Hotel if you are looking for a good but affordable place to stay on the Great Ocean Road. They offer very affordable accommodation, starting from only $30 per person per night for a family room. Plus you enter the vibrant bar and beer garden just walking down the stairs! WIN WIN!
What are Some of the Free Activities You Can Do Near the Great Ocean Road?
After spending some money on activities in Apollo Bay, you can save a few bucks with free things to do on your trip. You can stay in a free campground that has walking tracks closeby. These trails and tracks let you see native wildlife and leave the noise of life back home behind. Of course, one of the biggest highlights for visitors is the scenic drive of the Great Ocean Road itself. You can see the surf just below you and follow along with the winding and twisting turns. Many visitors also like the Great Ocean Walk that puts them close to the water and Mariners Lookout, which offers one of the best views of the bay. Some of the other things you might do on your free camping trip to the Great Ocean Road include:
12 Apostles

Mait's Rest

All the beautiful waterfalls

Great Otway National Park

Beaches
Don't forget that you can explore the galleries on the Great Ocean Road and window shop through the small boutiques without spending any money. Hiking, fishing and swimming are free activities that you can do at most of the free camping sites on the Great Ocean Road. You might even find campgrounds where koala bears and other animals roam. Trust us… You won't get bored!
The Great Ocean Road Brewhouse is an award-winning and dog-friendly bistro and bar located in Apollo Bay. They are well known for their extensive selection of craft beer and great vibes with Free Live Music on the weekends.
KAYAK recommends Great Ocean Road Brewhouse, Apollo Bay on their Road Trip Guides.