A sweet little vaycay is the best thing. Mornings at the beach, for a walk or swim, and evenings at the local pub around the fire or in the beer garden. Okay, your human friends can also come, I suppose. We will be sharing the best great ocean road pet friendly accommodation!
Let's face it, it's your furever friend who makes your holiday the perfect holiday when they snuggle up against you after a fun day outdoors. Apollo Bay, located less than three hours from Melbourne, offers a wide range of amazing accommodations for you and your dog. Whether you are looking for a beach house, Airbnb, or stylish beach Shak, there is an option for all! 
When visiting Apollo Bay, also make sure to visit the Great Ocean Road Brewhouse. They have a pet friendly beer garden serving Paw Blonde and PawSecco, and they have a "dog wall of fame" at their pet friendly bottle shop Tastes of the Region. They also have accommodation options at the Great Ocean Road Hotel, but unfortunately, their accommodation is not pet friendly. That's why we've compiled a list of the top pet friendly accommodations in Apollo Bay to make your life easier.
Have a wonderful holiday and enjoy all the dog friendly activities the Great Ocean Road has to offer. 
Great Ocean Road Pet Friendly Accommodation
Marengo Holiday Park, a pet friendly accommodation, welcomes you and your pet to their caravan park. You can also take your pet to the local beaches, which are all easily accessible from the park.
This caravan park is located on a quiet coastal location with a protected swimming beach, rock pools, and formal walking trails to discover with your pet.
Two-bedroom cabins with ocean views are available with a fully equipped kitchen, living room, and bathroom. There are also powered campsites for campers with their own sullage, water, and power points.
All pets are welcome in the park with a leash. However, the extensive foreshore areas that border the park are pet-friendly and offer opportunities to walk your pet if you wish.
Marengo Beach Studio 3 is a boutique style studio accommodation located in Marengo/Apollo Bay, just moments from the crashing surfs, deep blue waters & rock pools on Marengo's main beaches.
The studio is pet-friendly and allows guests to enjoy the best attractions in the area, including the famous "twelve apostles", the "great oceanwalk", Cape Otway Lightstation and Otway Fly, as well as beautiful walks and waterfalls and pristine beaches.
Apollo Bay is easily accessible for guests who wish to enjoy the local produce at nearby cafes and restaurants or browse the charming boutiques that line the main street.
Marengo Beach Studio 3 allows dogs to stay with them. They provide a kennel as well as a fenced yard.
Blue Bollard, a contemporary styled, one-bedroom pet friendly cottage, with spectacular word-class ocean views. The home is cozy and warm with a fireplace, fully equipped kitchen with everything you need. The Blue Bollard is located in Apollo Bay and offers free bikes, a BBQ, and a garden. It is located 45km from Lorne and within walking distance of the beach. 
The perfect homely place to stay for you and your furry best friend! You can snuggle up together on the couch or even in bed. Make yourself at home!
Fernhouse is a post-and-beam building with two stories. It has a large deck that includes a grill area, living room, and new kitchen. There are three bedrooms and two bathrooms. This property is a forest-hugged sanctuary that allows you to immerse yourself in the natural world. The house is pet-friendly and has a fireplace that you can use. All firewood is provided. We will warm the fire for you in Winter so that it is nice and warm by your arrival.
You can walk the 6km Elliot River loop from the house, or to Shelly Beach which is pet-friendly. You can read a book in the hammock, or relax in the vintage tub.
Stone Cottage is stunningly located on a hill with views of the wild ocean and sandy coves. The farm is 42 hectares in size. Apollo Bay's cafes, restaurants, shops and market are only 3km away. You can view a variety of native and exotic birds right on your doorstep! Bring your house-trained doggo along to this pet friendly accommodation and enjoy a wonderful holiday in nature. Dogs must be leashed around the cottages and farmland before they can go to the rock shelves and off-leash beaches in front of the cottage. Stone Cottage offers a designated dog couch for furry friends, grassy areas in front of the cottage, and a covered, rear courtyard.
This pet-friendly holiday accommodation has a private back garden that allows you to escape to your own peaceful oasis. This spacious Apollo Bay accommodation offers both the beach and the comfort of your own private retreat.
Apollo Bay, centrally located on Victoria's Great Ocean Road is the ideal base to explore all that this beautiful piece of Victoria has. The Otway rainforests are to the west and the Surfcoast to the east.
This well-appointed holiday home is pet friendly (suitable only for small dogs) so you don't have to leave your dog at home.
Beeches By The Sea is a pet-friendly accommodation facility that offers 2 villas, each capable of accommodating 4 people. Beeches By The Sea Villas are elegant and comfortable and reflect the natural beauty of the surrounding area.
Their two bedroom villas are spaciously furnished with a queen-size bed, two single beds, spacious wardrobes, and a large bathroom. The villas have a modern kitchen, and offer beautiful views through large timber windows that overlook our private and tranquil gardens.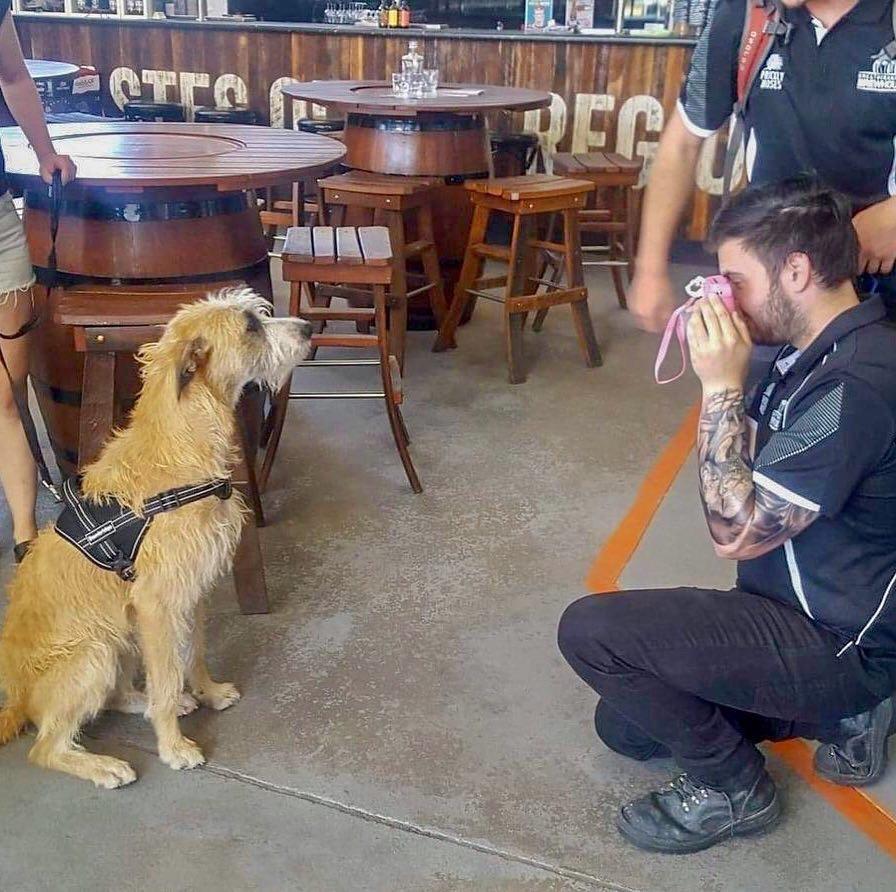 THE YELLOW HOUSE
The Yellow House is located in the middle of Apollo Bay, on the Great Ocean Road. This house is centrally located, but feels private and quiet.
Open living space with wood fire and air conditioning, large dining table, and fully equipped kitchen includes a Microwave, Coffee Machine, and Dishwasher. There are three large bedrooms that can accommodate up to six guests. All linen and towels are provided. The master bedroom features an ensuite, while the main bathroom has a large corner spa.
A large, sheltered deck is available for doggie guests.
This converted shearing shed is perched high above Apollo Bay's quiet township. It's a modest but well-presented property that offers something different. Our property is peaceful, quiet, serene, and tranquil.
This is a great place to stay while you spend a few days on the famous Great Ocean Road. Enjoy a picnic at Tastes Of The Region, and then explore the 12 Apostles. You can also bring your surfboards and enjoy the local surf beaches.
You don't have to be alone to enjoy this experience, it is also available for your four-legged friends. The property is pet-friendly and can be a wonderful place to take your dog. There is a pen and lock-up kennel available.
SALTWATER HAVEN
Saltwater Haven, a 3 bedroom holiday home located high up on the hill at Apollo Bay's southern end, offers breathtaking views of Marengo Beach or Hayleys Reef. This accommodation offers a tranquil retreat away from the hustle and bustle daily life.
Apollo Bay, centrally located on Victoria's Great Ocean Road is the ideal base to explore all that this beautiful piece of Victoria has. The Otway rainforests are to the west and the Surfcoast to the east.
This well-appointed holiday home is pet-friendly. All linens and towels are included for your stay.
Great Ocean Road Holidays manages over 130+ pet-friendly holiday rentals all along the Great Ocean Road. They have pet-friendly accommodation available in apartments, luxury holiday homes, and beach shacks. Check them out for all Great Ocean Road pet friendly accommodation options!